Suiheisha History Museum: Map of the Homeland of Human Rights
Kashihara, the homeland of the Suiheisha, is introduced through moving pictures and computer-generated maps.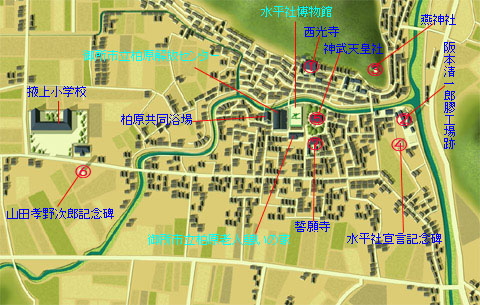 Map of the Homeland of Human Rights
The village of Kashihara (Gose City, Nara Prefecture), which is adorned beautifully with paulownia flowers every spring, is known as the birthplace of the Zenkoku Suiheisha. The Suiheisha movement was born in this village with the determination of Buraku people to stand up, be united and fight on their own in order to be liberated from discrimination, spreading out nationally like wildfire since then.
SAKAMOTO Seiichiro, SAIKO Mankichi and KOMAI Kisaku, who were born in Kashihara and made every effort to create the Suiheisha, were later called gthree young men of Kashiharah. In addition to them, Kashihara and the neighboring areas produced a lot of important persons who were involved in the Suiheisha movement.
The young men of Kashihara formed the Tsubame Kai (sparrowsf society), a social group of the village that became the predecessor of the Suiheisha, and started to work for the creation of the Zenkoku Suiheisha.
Reflect on the harsh conditions of those days, which had led to the creation of the Suiheisha movement, and get in touch with the noble spirits of the people who dedicated themselves to the work.
Video Section (ground floor)
In the Video Section (ground floor), six activists of the Zenkoku Suiheisha are introduced.
Doctrinal Leader of Buraku Liberation - ASADA Zennosuke (from Kyoto)
Eloquent Organizer - IZUNO Rikizo (from Osaka)
Protecting the General Headquarters of the Zenkoku Suiheisha till the End - IMOTO Rinshi (from Fukuoka)
Lifelong Resistance and Defiance - KITAHARA Taisaku (from Gifu)
Driving Force of the Mass Movement - MATSUDA Kiichi (from Osaka)
Father of Liberation - MATSUMOTO Jiichiro (from Fukuoka)
---
[
Visit the Main Exhibitions (2F)
]
---
[
Home
]